Who Killed
The Covert Comic?
Nothing reminds a person of his own mortality like being killed.
- The Covert Comic
If you've ever been killed, you probably have some idea of just how life-altering an experience it can be. Being killed frequently results in profound changes in a person's behavior and relationships, and can fundamentally transform the way that person views his or her place in the world. While each individual responds to being killed in his or her own unique way, everybody who is killed agrees on one thing: being killed changes a person forever.
In the case of John Alejandro King a.k.a. the Covert Comic, CIA research manager and aphorist, being killed clearly seems to have awakened a greater awareness and appreciation of the transitory nature of this, our material existence, as well as a recognition of the need to more deeply examine his life – and death – in order to better understand the meaning of his killing (not to mention how he might hopefully avoid being killed again in the future).
Somewhere near Washington DC
*
Who Killed the Covert Comic?
Because he worked for the US Intelligence Community and therefore wasn't very well known outside government circles, the list of suspects can be limited to anyone who attended one of his intelligence briefings, interacted with him by classified e-mail, or had lunch with him in the CIA cafeteria.
... In other words, at this point I'm thinking The Covert Comic must have committed suicide.
- Unidentified CIA official
*
Whatever kills me makes me funnier.
*
Philip K. Dick: Reality is that which, when you stop believing in it, doesn't go away.
The Covert Comic: Reality is that which, as soon as you start believing in it, goes away.
*
Attending a classified CIA briefing on international terrorism can be a sobering experience. Especially if the liquor runs out.
- Closing joke, Homeland Security Agency briefing
*
What castle isn't built in the air???
*
I always think before I speak. I always think "I think I'll speak now."
*
What do you hope to get out of this meeting? - CIA Counterintelligence official, polling the audience before the start of a presentation on CI
Out of this meeting. - The Covert Comic
*
When joined together, the five fingers form a fist with which to strike a blow against one's enemy. But when separated, the five fingers form several bloody, scary body parts which can be thrown at one's enemy (with one's other hand).
*
They say the greatest danger is to do nothing. And I live for danger.
*
The heart is a Secure Compartmented Information Facility – remove all sensitive materials before permitting entry to non-cleared personnel.
*
I can't handle the truth? That's not what the truth said last night.
*
Charles Schultz: Don't be afraid the world will end today. It's already tomorrow in Australia.
The Covert Comic: I've been calling Australia all morning, and there's no answer.
"The Covert Comic ... I officially don't want him killed."
*
Why Was the Covert Comic Killed?
One thing we can know with certainty: The Covert Comic wasn't killed because he knew too much.
- Unidentified CIA official
*
I assume God isn't constantly depressed at the thought of those souls suffering eternal damnation for denying Him.
On the other hand, I assume God doesn't just forget about these people either.
... Probably God is sort of mildly bummed out all the time.
*
It's OK to pick your battles, as long as you don't eat them.
*
They say sleeping with the 20-year-old CIA intern daughter of your station chief isn't career enhancing.
I say: how much more enhanced could my career possibly get???
*
The only difference between "leader" and "dealer" is where you place the letters.
*

: How did he die?
The Covert Comic: Natural causes.

: Natural causes??? Looks like a bullet hole in his head there, wouldn't you say???
The Covert Comic: ... Well, to die if you get shot in the head, isn't that natural?
*
Nobody plans to fail, they just fail to plan. Therefore, always plan to fail to fail to plan.
*
Hey! Oil!
- Kidding around during excavation of a suspected mass grave near Mosul, Iraq
*
Other Historic Events That Occurred on September 11th
September 11th 1902 was the last known date in which one full second passed without a person somewhere in the world tripping and falling.
*
Some parts of the Bible I find a little troubling. For example, if Jesus really believed in nonviolence, why did he destroy the Death Star?
*
When I was a kid, I never knew where my next meal was coming from. Restaurant, delivery, catered – it seemed like every meal came from a different place.
*
The universe is 9% helium. We're all talking in a squeaky voice all the time.
*
He who neither confirms nor denies confirms and denies.
*
I wouldn't describe myself as risk-averse. Describing myself could get me in trouble.
*
Alert Memorandum? I would certainly hope so.
*
Secret 1581.71.2. When fortune smiles on you, check to see if she's licking her chops.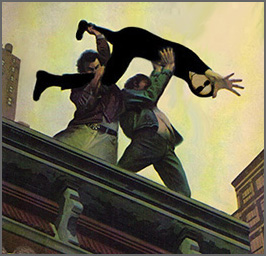 *
How Was the Covert Comic Killed?
By definition, he must have perished while giving an intelligence briefing.
... I mean, nobody could tell jokes like that and not expect to die onstage.
- Unidentified CIA audience
*
Whom the gods would destroy, they first make gods.
*
Not only do I have a search warrant, I have a find warrant too. - Shortly before and/or after being killed
*
Secret 8086. If physics are the universe's operating system, National Intelligence Estimates are life's core dump.
*
Papa was a rollin' stone. But he generally confined his rollin' to the TV room and kitchen.
*
They say character is what you have left after you've lost everything else.
I say: if you've lost everything else, how much character could you have had in the first place???
*
To maintain good karma, drive on good roadma.
*
If we would just lose the War on Drugs, I'm certain we could win the War on Terror.
*
Melvin.
- When asked by his first grade teacher to name an animal that lives in Africa
*
Nothing succeeds like success. In fact, for all practical purposes the two are interchangeable.
*
The Super Bowl has become so commercialized, its religious meaning is in danger of being lost completely.
*
"Bond. James Bond."
Corny? Sure. But you have to admit, it does sound better than "Fleming. Ian Fleming."
*
Intelligence is in the night vision goggle of the beholder.
*
Dekatheism is the belief that the total number of gods that exist is greater than zero, but less than one.
*
SpookSpeak. Extraordinary adj. Even more ordinary than usual.
*
Be.

But not necessarily in that order.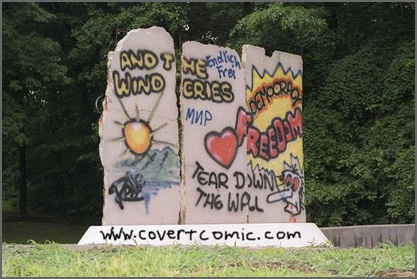 Anonymous expression of solidarity
Berlin Wall Memorial, CIA Headquarters, Langley, Virginia
*
When Was the Covert Comic Killed?
... You mean, when wasn't The Covert Comic killed, right?
- Unidentified CIA official
*
Secret 868036359. Oh what a tangled web's resultant, when first we hire a weaving consultant.
*
Upon our nation's moral fiber depends our nation's moral regularity.
*
At CIA we deeply value human life. In fact, we've been known to pay several million dollars for just one.
*
I've never quite been comfortable with the fact that lionesses raise the young and do all the hunting, while the lions lay around all day in the shade.
... I mean, shouldn't the lionesses be fanning the lions?
*
It's not a matter of principle, it's a principle of matter.
- Explaining to management why he gave an intelligence asset two days off after the asset had worked 72 consecutive hours
*
My conscience is so clear, it's practically invisible.
*
A dressed pet is its own revenge.
*
I'll believe in nanotechnology when I don't see it.
*
In order to send a more positive message, instead of smashing their guitars at the end of a concert, maybe rock stars could reconstruct guitars out of broken parts and play a song on them.
*
He was well liked, but he wasn't liked.
- Unidentified CIA official
*
It must have been fun being the first humans, setting all those new world records every day.
*
You say 'confusion agent' like there's some other kind.
*
Believe me, if CIA wanted you to disappear, you'd already be working in the Office of Congressional Affairs Liaison Group.
*
I read this quote by Aleister Crowley: "I do not want to have anything to do with a conventionally minded person any more than I want to eat canned salmon."
Talk about a wake-up call; I was eating canned salmon when I read this.
*
Secret 77910981. Never compromise your principles. Maintain their cover at all times.
*
This is critical intelligence – it's been bad-mouthing me ever since I collected it. -

*
Michelangelo, and a guy named Guido, both obtained their marble from the same Italian quarry. But what each man saw in that marble made the difference between a statue gathering dust in a museum, and the calcite nano-compounds that saved our galaxy from the dreaded Venusian Hell-Beam.
- In a cosmos near a bar
*
Whatever doesn't kill me makes me stronger.
Not lifting weights doesn't kill me.
Therefore, not lifting weights makes me stronger.
- Near the CIA Headquarters gym
*
You go your way, and I'll go thine.

Inside CIA Operations Center: classified intelligence cables, television news updates, and a makeshift shrine
*
What Were You Doing when You Learned that the Covert Comic Had Been Killed?
Officially not killing The Covert Comic, of course.
- Unidentified CIA official
*
Secret 4.5.1.4. A good backstop is the better part of discretion.
*
Don't walk behind me, I may not lead. Don't walk in front of me, I may not follow. Walk all over me; I like it.
*
According to science, gender fluidity, if it's hot enough, can transform into a gender gas!
*
You are entitled to your opinion. The consequences of your opinion are entitled to you.
*
If there was a play about a theatre company performing Shakespeare, that would be deep, because you'd have a guy saying 'All the world's a stage' on a stage on a stage on a stage.
*
The last day of camp, Jim took me aside and commended me for the work I had done that summer – not only on the team projects, but on myself.
I looked down, kicked a pebble and said "I never could have done it without your help isolating those restriction endonucleases, and showing me how to use ligases to join together the strands of my newly recombined DNA."
Then I guess I got too embarrassed to talk anymore, so I flapped my ganglia and bounded over to the bus. But I could tell by the look on several of his faces that Jim understood.
*
Friends and lovers may come and go. As long as they go.
*
Actually, I don't mind being treated like a number, as long as it's a big, important number.
*
In my opinion, a woman doesn't deserve the title of 'supermodel' until she proves she can actually fly.
*
Sweet memories of youth. Swimming down at the swimming hole. Fishing down at the fishing hole. Sexing down at the sex hole.
*
If there's one prediction we can safely make about the future, it's that guarding the self-destruct mechanism will continue to be a remarkably low-paying job.
*
Nobody knows how it feels to be me, except it.
*
If Dr. Moreau had owned a vacuum cleaner, he'd probably be alive today.
*
Ivan Stang said: "We all know how stupid the average person is. Now realize that, by definition, fifty percent of the population is dumber than that."
Bad news for Ivan Stang: he's actually referring to the median person.
*
Fleetingness is here to stay.
"I can neither confirm nor deny it's a miracle."
- Unidentified CIA cleric, Northern Virginiastan
*
Recently I made an interesting discovery: if you remove the last word, or several words, of a celebrated quotation, then replace them with the name of the author, the resulting passage is often at least as insightful as the original saying.
I've tentatively named this transformation of a famous quote a halforism. Several examples of halforisms are presented below. Readers are encouraged to apply the halforist method to additional quotations (including and especially quotations about halforisms).
Those who cannot remember the past are condemned to repeat … George Santayana.
The only thing necessary for the triumph of evil is … Edmund Burke.
Ask not what your country can do for you, ask what you can do for … John F. Kennedy.
Great spirits have always encountered violent opposition from … Albert Einstein.
Once is happenstance, twice is coincidence, three times is ... Ian Fleming.
The only thing we have to fear is … Franklin Delano Roosevelt.
One of the symptoms of an approaching nervous breakdown is the belief that one's … Bertrand Russell.
Gravitation cannot be held responsible for … Albert Einstein.
Give me liberty, or give me … Patrick Henry.
Between two evils, I always pick … Mae West.
Everything in the world may be endured, except for … Johann Wolfgang von Goethe.
You cannot simultaneously prevent and prepare for … Albert Einstein.
A woman without a man is like a fish without … Gloria Steinem.
I believe in God, only I spell it … Frank Lloyd Wright.
I would have made a good … Richard M. Nixon.
God may be subtle, but he is not … Albert Einstein.
The difference between pornography and erotica is … Gloria Leonard.
It is better to be quotable than to be … Tom Stoppard.
Everything is funny, as long as it happens to … Will Rogers.
If I had only known, I would have been … Albert Einstein.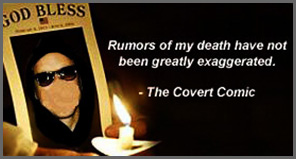 *
How Will the Covert Comic Be Remembered?
Who?
- Forgotten CIA official
*
If the American people knew how good a job the CIA was doing, the CIA wouldn't be doing a good job.
*
They say dead intelligence assets disclose no secrets.
... Maybe that's the problem with my intelligence assets.
*
Everybody wants to see the big picture. Nobody wants to smell the big scratch-and-sniff.
*
After my accident, the doctors told me I shouldn't be alive.
It wasn't a medical opinion – they were expressing a deeply held personal belief.
*
I tried writing for the public, but the public ignored me.
So then I tried writing for the critics, but the critics ignored me.
Now I write for myself. And now myself ignores me.
*
You shall know the truth, but the truth shall pretend not to recognize you at diplomatic functions.
*
Education is the progressive discovery of our own ignorance? There's another thing I didn't know!
Alleged post-death apparition near Fallujah, Iraq
*
If I took off my sunglasses, everyone else would have to put on theirs.
*
The time has come for the time to stop coming.
*
You don't make it up as you go, you make it up so as to keep going.
*
I was born free. Looking back, I should've at least charged expenses.
*
You can black out words in a document, but you can't black out the truth. Only Special Activities Center can do that.
*
If some choose to call me a Renaissance man, let it be for my work on behalf of human advancement (and not for my stockings, Tudor bonnet and cod piece).
*
If the world will never be the same again, the world will never be the same, again.
*
WTF, but where W = 'Whither'
*
The Covert Comic died never knowing he would someday be famous. Today, the whole world knows the Covert Comic will someday be famous.
If you've ever become immortal, you probably have no idea how life-altering an experience it can't be. Becoming immortal rarely results in noticeable changes in a person's behavior or relationships, and almost never fundamentally transforms the way that person views his or her place in the world. While each individual responds to becoming immortal in his or her own unique way, everybody who becomes immortal agrees on one thing: becoming immortal is definitely no big deal.
*
I've faked many a life, but I never once faked any of my deaths. - While being killed.
*
Everybody knows that being killed gets you clicks.
And getting clicks makes you immortal.
Who killed the Covert Comic?
Who brought the Covert Comic to life?
*
It's a good day to live forever! - Shortly after forever being killed
*
A CIA officer will take a secret to the grave – provided that grave has been officially accredited as a Sensitive Compartmented Information Facility.
*
If I'd known I was going to live this long, I wouldn't have taken such good care of myself. - Shortly before being born
*
He who laughs last thinks slowest?
How do you know he isn't laughing first???
*
Out of context?! But I just filled up with context this morning!
*
FBI counterintelligence official: You'll never work in this town again.
The Covert Comic: I'm a Federal employee - when the hell did I ever work in this town???
*
Jack Handey said: "I hope life isn't a big joke, because I don't get it.
"
I hope life is a big joke, because I get it.
*
We insist our soul is not for sale – as if the owner would tell us.
*
Seeing is be leaving.
*
I googled the quote 'Power means not having to respond.' Nothing happened.
*
The future is now! As for now, it should be arriving shortly.
*
That one.
- Responding to the query: "If you could ask God just one question, what would it be?"
The Covert Comic.
Kill him while you still can!