'Career threatening' is a redundancy.
● Motivational Secret of the Week. God gave us two ears but only one mouth, that we might learn to talk out of our ass.
Executive Intelligence Summary
I said I knew what I was doing. I never said I knew what would happen after I did it.
*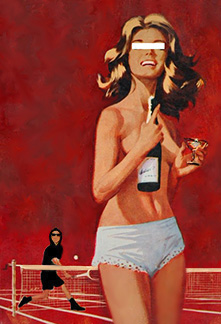 I can't think about Key Judgments without thinking of Key lime pie!
● You'll never hear me complain about NSA surveillance of US citizens (as long as you don't work for NSA).
● Drove past my grandparents' house this morning, saw them doing tai chi on the lawn. At least I hope it was tai chi.
● The Russian word for 'team' is 'komanda.' In Russia they have a motivational saying: Is strongly advised to have 'da' in 'komanda.'
● Be angry about history only if you're prepared to be ecstatic about history.
Executive Intelligence Summary
If you loot first, you don't need to rape or pillage.
*
If terror had a face, the Covert Comic would be the bright red pimple on the end of terror's nose.
● Today's intelligence world changes so rapidly, it's all the CIA can do to pretend not to keep up.
● Whoever said 'You can't please everyone' pleased everyone.
● A literary agent told me my manuscript had bestseller written all over it. I said I had no idea who could have done that.
● Don't think of it as stretching the truth – think of it as being truth's yoga partner.
Executive Intelligence Summary
If we hire a change management consultant, do we have to supply the diapers?
The Covert Comic officially isn't on Twitter.
*
Blow Your Cover!
Nothing says "I can neither confirm nor deny that I regularly read the Covert Comic" like a genuine Covert Comic bumper sticker.
Create your own covert action! [Officially don't] purchase and affix these stickers to the bumpers of CIA or FBI counterintelligence officers' cars, street signs in heavily traveled areas of Georgetown, cubicles at the Defense Intelligence Agency, the back of Air Force One, etc.
Stickers are standard 3x10 inch, full color, and are shipped promptly and secretively via First-Class Mail (no shipping fee!). Price: $10. Allow 2-3 weeks for delivery.
(Note: An ultra-classified portion of proceeds from the sale of Covert Comic bumper stickers goes to Fisher House, a tax deductible charity providing lodging and other support to families of wounded US military personnel. ... And you're right, lady, I am arrogant and self-serving.)



Can't we all just coexist?




The Covert Comic.
Read him while you still can!