The Covert Comic
Weekly Intelligence Briefing
(Note: Cleared readers only, please.)
You can't make this stuff up. Making this stuff up is a violation of Title 18, Section 1001 of US federal law.
● I strongly support creation of the United States Space Force, and I am prepared to nominate several officials for immediate deployment.
● A mnemonic verse to help one remember not to commit genocide:
Only a creep'll
Annihilate a people
● You've got to take the sweet with the sucralose.
● It's not the illusion of reality that need persist, only the illusion of persistence. – Real Men Don't Get Published
Executive Intelligence Summary
The saying 'See no evil, hear no evil, speak no evil' omits several important orifices.
*
The bean counts the bean counters.
● The CIA and Iran's Islamic Revolutionary Guard Corps: What You Need to Know.
You do not have a need to know about the CIA and Iran's Islamic Revolutionary Guard Corps.
● If a butterfly flapping its wings can cause a hurricane in China, you'd think we could get four or five butterflies and do something about the trade deficit.
● Horror motifs are specific to their generation. Back in my day, an image of pale, hollow-eyed twin girls standing motionless holding hands wasn't called 'scary,' it was called 'being at a free concert.'
● The thought of machines becoming self-aware is frightening – because it means I might have to become self-aware too.
Executive Intelligence Summary
The naked truth has stretch marks. – The Naked Intelligence Officer
*
In a leap year, 96 additional people get their 15 minutes of fame.
● Intelligence discipline? I find timeouts work pretty well.
● A word of warning if you go to see an opera: it's NOT necessarily over when the fat lady sings.
● We learn genealogy the morning after an earthquake.
… What? It's 'geology?'
That too.
● I bet whoever said "The future is now!" feels like a total idiot today. – My War on Terror!
PostTopSecret of the Week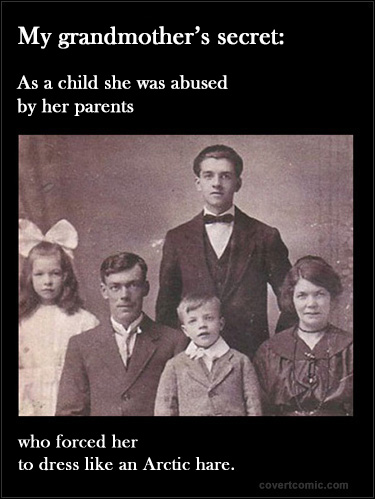 – from PostTopSecret
The Covert Comic officially isn't on Twitter.
*

The Covert Comic.
Read him while you still can!