The Covert Comic
Weekly Intelligence Briefing
(Note: Cleared readers only, please.)
Alert Memorandum? I would certainly hope so.
● Secret 22101.2. The eye of the beholder is controlled from a dashboard in McLean.
● My daughter says she wants to smash the patriarchy. I told her "When you're 21, buy me a bottle of Tanqueray – you'll have the patriarchy smashed in an hour."
● Diseases have names. Cures are anonymous.
● How about a compromise: everybody leave the toilet seat at 45 degrees. – Real Men Don't Get Published
Executive Intelligence Summary
I can't handle the truth? That's not what the truth said last night.
*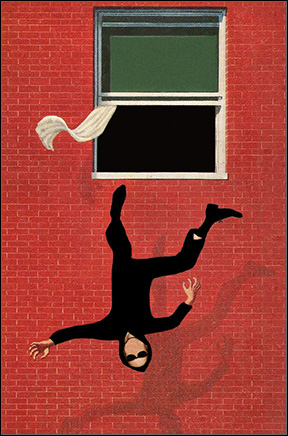 Any Intelligence Community term, followed by the word 'awareness,' automatically constitutes an oxymoron.
● SpookSpeak. ASAI adv. Abbreviation for 'as soon as impossible.' ('It's essential that we move to implement these promised reforms ASAI.')
● When joined together, the five fingers form a fist with which to strike a blow against one's enemy. But when separated, the five fingers form several bloody, scary body parts which can be thrown at one's enemy (with one's other hand).
● We don't see things as they are, we see them as our optometrist is.
● The key to effective anger management is learning to avoid doing things that piss me off in the first place. – The Naked Intelligence Officer
Executive Intelligence Summary
There's no business like show business, but there's lots 'o businesses like matzo businesses.
*
Fuggiveanfuggedaboutit.
● And so, to you, our nation's newest CIA officers, as you go forth to help lead America's intelligence effort, I offer this advice: if you bring me back as a consultant after I retire, someday others will do the same for you. – Remarks to graduating Career Trainees
● If there was a play about a theatre company performing Shakespeare, that would be deep, because you'd have a guy saying 'All the world's a stage' on a stage on a stage on a stage.
● Flirting crosses the line and becomes inappropriate when it creates the impression that you're interested in the cadaver sexually.
● If you piss high enough, you'll make a rainbow. – My War on Terror!
Executive Intelligence Summary
All I'm saying is that some of us happen to be a little better at fighting against elitism than others.
The Covert Comic officially isn't on Twitter.
*

The Covert Comic.
Read him while you still can!