Contact Report
The Covert Comic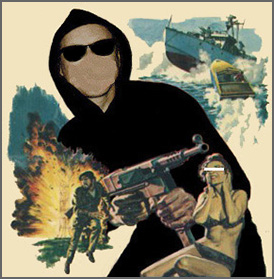 Note: This document is classified Third Eye Only.
The following is a collection of excerpts from official field cables written by CIA operations officer John Alejandro King a.k.a. the Covert Comic. It consists of contact reports, observations on intelligence-related topics, and additional restricted insights. This information has been provided at considerable risk to agents. Accordingly, if you're an agent (literary, talent, or certain other types of agent), consider keeping as far away from this information as possible.
*
The contact report is a contact sport.
*
There are fewer things too strange to happen, than things too strange not to.
*
Diplomats drink while talking. Ops officers talk while drinking.
*
Subject told me not to be nervous, as she didn't bite.
Luckily I'd been briefed that she preferred to constrict and swallow whole. – Contact Report
*
As a CIA officer, I sometimes have to tell policymakers in Congress what they don't want to hear.
... For example, that I accidentally backed into several of their cars while parking.
*
'Diplomatic mission' is an oxymoron.
*
Don't imagine for a second that the CIA can detect your thoughts. Imagine it for at least 2.5 seconds, so we can calibrate our monitors.
*
A hot-looking walk-in approached me at the embassy and proposed sex for secrets. At first I hesitated, but her information was pretty good.
*
The asset looked more dead than alive. Which, given that he was in fact deceased, lent the scene a certain credibility. – Contact Report
*
A covert operation is only as effective as its worst operative. The worse your worst operative, the more effective your covert operation.
*
The crunchy taco shall become soft, the soft taco, crunchy.
*
Secrets have no morals - but not vice versa.
*
Secret 0.81201. 2 out of 3 stories with legs have cellulite.
*
Who cares whether computers are intelligent, as long as they're sincere?
*
'Open secret' isn't an oxymoron, it's a redundancy.
*
He who fights and runs away
May live to fight another day
But he whose foe to flee does pay
Shall get promoted at CIA
*
Covert action is diplomacy carried to its logical contusion.
*
By sheer coincidence, the blouse bordering her plunging décolletage was exceedingly sheer, barely concealing her coincidences. – Contact Report
*
My view on CIA torture? It depends who at CIA you're torturing.
*
I don't subscribe to conspiracy theories unless they include the swimsuit issue for free.
*
I assume a class action product liability lawsuit against the maker of Jedi lightsabers is a manifestation of the dark side of the Force.
*
When writing a contact report, the term 'intense vocalization' should be used in place of words like 'moan,' 'pant' and 'sigh.' – Contact report guidelines
*
Secret 251170. Never let power go to your head. There are much better parts of you for power to go to.
*
The Key Judgments in this National Intelligence Estimate completely contradict each other. That said, this document is not without its flaws. –

*
Didn't see my therapist today. The shower cam was too foggy.
*
It's only a sucking chest wound if you're not the shooter.
*
Secret 146250. A fool and his intelligence assets aren't soon parted.
*
Too much groundbreaking leaves nothing but dirt.
*
She walked into my life like a shopper walking into a locked door an hour before the store opens. – Contact Report
*
FORTUNECOOKINT of the Week: The paper this fortune is printed on contains more nutrients than the cookie it came in.
*
Sometimes, what seems like an evil is really goodness in disguise (which, if you think about it, is kind of evil of goodness).
*
SpookSpeak. Zombieline n. A project deadline that moves under its own power in search of live brains to consume. Also known as an undeadline.
*
I'm not necessarily saying polygraphers are bad people, I just feel that monographous relationships are healthier for everyone involved.
*
The foot is nobler than the shoe. But the shoe is nobler than the clown shoe.
*
We need a sanity check.
… Yep, still insane.
*
During my first TDY, the chief of station told me "Your contact reporting needs more glandularity."
I said "You mean granularity?"
He said "That too."
*
After thorough examination, determined that subject's trunk definitely does not have a false bottom. - Contact Report
*
I've never been awarded an Intelligence Star, but I have been assigned several intelligence black holes.
*
Doing is one thing, saying is your cover.
*
Let the facts speak for themselves, and they'll usually plead the Fifth.
*
Misery loves the Company.
*
Who says you can't negotiate with terrorists? I just traded one for a deputy foreign minister and cash! – Contact Report
*
Who remembers the memorandum of understanding shall not understand it. Who understands the memorandum of understanding shall not remember it.
*
Director's cut? Let's hope it's a major artery.
*
Lying in politics isn't as old as the hills; lying in politics created them.
*
By stripping it of natural moisturizers, ethnic cleansing leaves your ethnicity dry, wrinkled and flaky.
*
What we need is a multidisciplinary approach to counterintelligence. The more frequently a CI officer gets paddled, the better.
*
We don't have to live in fear. We can move out to the suburbs and commute to fear instead.
*
Bishop Fulton Sheen
If not for his call to priesthood
The Bishop Fulton Sheen
Might have been a five-star general
Or even a famed drag queen
*
Remember, vast government conspiracies create jobs.
*
It bothers me when I hear people making negative comments about my religion. I worked hard to found that religion.
*
E = SLL
Energy equals staff times the speed of life scared.
*
America has never lost a war. We just misplaced a couple temporarily.
*
She liked playing the part of the tough, hardboiled ops officer. But I could tell that if someone steamed her properly, she'd be easy to peel. – Contact Report
*
One compromises much to remain uncompromising.
*
As thou stoneth the martyr, so thou martyreth the stone.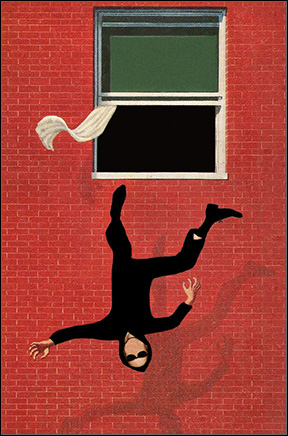 *
Kiss the girls and make them neither confirm nor deny.
*
When is the lessons learned review on the lessons learned review?
*